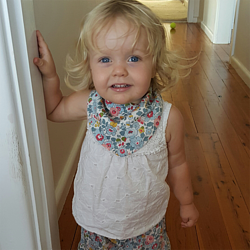 Our Award Winning DRIBBLEBUSTER bibs by Almarie Designs, mainly made from LIBERTY PRINTS were conceived from an observation of my very dribbly grandson constantly getting chills from all the moisture soaking his clothes and settling on his chest and approved by a midwive and skin expert Sharon Trotter who set up the TIPS Award tested by mother's.
Our fashionable Dribble bibs are created in a unique bandana design and are made using high quality materials for a great finish with no rough overlocked edges. With a backing fabric of extra thick, exceptionaly
Soft absorbant cotton they absorb any wetness quickly ensuring that your baby remains dry and smart even when you are out and about. The fantastic collection means there is a cute bib for every baby. Lovers of LIBERTY PRINTS are catered for with our range of beautiful designs extending to baby bloomers, hairbands and Iphone cases not forgetting the Mums!
Our happy customers love the wonderful array of ever changing designs in Limited Edition fabric collections that our bibs are made from.
Winner of the TIPS Clever Design Award and voted 10 of the Best Healthy Baby Products in the Daily Mail. 2015 Silver Award winner in Little London Baby products.