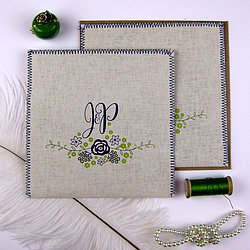 Welcome to Dragonfly Couture Stationery - we design and produce beautiful stationery for beautiful weddings.
Once upon a time, a dreamer had to wear a suit and sit in an office each and every day. The dreams (mostly about paper!) started to drift out of the dreamer's head and onto paper and ten years ago Dragonfly was born. Roughly one thousand weddings later, we are still hugely inspired by paper and the exclusive range of designs selected for notonthehighstreet.com - carefully chosen from a selection of our favourite designs - showcase a range of beautiful and innovative textures and finishes. If you would like to change the colours of any of our products please contact us.
We struggle to throw things away - we think green and reuse and recycle as much as we can. Many of the boards and papers we use are recycled and produced by a paper mill in the UK. Where ever suitable, off cuts and remnants are donated to local schools and art therapy groups.