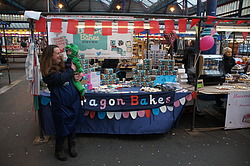 Dragon Bakes are makers of educational children's baking kits designed to inspire a love of baking in little ones from an early age.
We came up with the idea of kits 'wi' bits (we're from Yorkshire you see!) as a change from the traditional baking mixes that involve tipping things into a bowl and stirring. Instead we aim to teach children the techniques and skills that they need to discover that baking is fun and fabulous! Grownups have the advantage of everything being in one place to enjoy the wonderful experience of baking with kids with a minimum of effort and mess (though there's sure to be a bit of mess - it's part of the fun!).
Each kit contains all the dry ingredients to make the bake, all labelled in bags in the order they are to be used, and an instruction card with a tick list and the method. The kits also include a vocab card teaching techniques that need to be followed, a rules card with some science of baking and some sensible tips, and a card for the grownups to show you how to make the experience educational as well as fun.
There are six kits in the range, and a gift kit presented in a beautiful reusable box - perfect for a present for any child in your life.