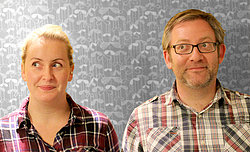 Welcome to the home of Double Thumbs Up! We are Kirsty Haikney and Barry Yearsley, an illustrator and product designer by trade. From our studio in sunny Manchester we design and make beautiful gifts to delight you and your friends. Our heads are always bursting with new ideas and we are always adding lovely new things to our store.
We want to make you gifts that your friends and family will be over the moon to recieve, unique gifts that you can't find anywhere else. Everything we produce is designed by us in Manchester and made in the UK. We combine many different production techniques including traditional processes we do 'by hand' such as watercolour illustration, hand painting and printing as well as modern processes like laser cutting and digital print.
We want ordering from us to be a pleasure for you. We take care to beautifully wrap and pack all of our products, so that regardles of whether the item is for you or a gift for someone else, opening a package from us will be a joyful experience! Who doesn't like getting presents in the post?
Happy Shopping!
Barry and Kirsty