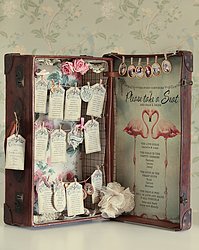 This is the story of two little Dottie girls who wanted to be rich and famous. Well it didn't quite work out that way but they did have a talent for creating beautiful designs on paper.
So please feel free to take a peek inside the Dottie storybook of paper goodies. From chic to quirky, vintage to timeless, let us take you on a journey through the wonderful world of wedding stationery, where you'll see truly unique invitations, stunning seating plans and the most gorgeous personalised guest books in the world!
Who knows, with any luck by the end of the story we'll have inspired you to go a little Dottie yourself, and just maybe you'll be that one step further to 'Happy Ever After'!