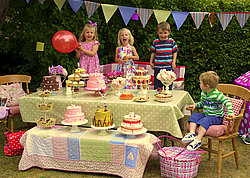 Keen to embrace home baking we launched Dottie and Belle at the beginning of September this year. Weare an online company providing easy to follow Children's Cake Kits.
The Cake Kit includes everything you need to make a fun, beautiful and undeniably home-baked celebration cake that a child of any age will love - great fun to make, even better to eat! We deliver direct to your door all the ingredients you need (including metal cake tins, sprinkles, decorations) to create a really beautiful chocolate or plain sponge, two tier children's cake. We throw in an easy to follow instruction card, plus the website shows you exactly what the cake should look like so you're not doing this blind.
Dottie and Belle cake kits are presented in a beautiful pink box tied with rafia. Our cake kits make the perfect gift for anybody who loves to have fun baking with or without the children.
To perfectly complement our Cake Kits we also offer extra special party bags to really treat your child and their friends. Every bag contains our own home-baked gingerbread lollipop, animal pencil and balloon plus an extra gift as detailed below on each bag. All of our party bags come with an adorable tag on which to write the party guest's name – guaranteed smiles all round!