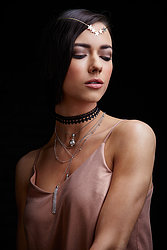 DOSE of ROSE was founded in 2014 and is based in Worcestershire, UK. Jewellery designer/maker Sienna Han has many years of experience designing for various brands from High Street stores to Top End names.
With her experience, she wanted to offer beautifully unusual and undeniably exquisite pieces that are driven by trend. Sienna, known for her distinctive style, personally selects each piece for its individual character and charm, placing a great deal of attention on detail, quality and finish.
Sienna's strong desire is to have jewellery that is firmly on trend yet that little bit quirky and different, and importantly still affordable. DOSE of ROSE brings together pearls, metals, and semi-precious stones in a most creative way that certainly delivers on Sienna's aim.