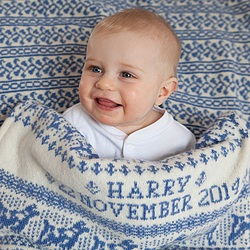 Dora Mouse was created by Charlotte Dean, who has been designing and making personalised baby blankets in her Norwich studio for over 20 years.
Charlotte's designs are inspired by traditional Victorian samplers, nursery rhymes and memories of her own childhood. Each item - personalised baby blankets, personalised hats, personalised Christmas stockings and personalised hot water bottle covers - is individually made to order. Charlotte knits in luxuriously soft and light-as-air lambswool, soft and warm merino wool, or a mix of wool/cotton which is then lightly felted for softness. Made with care and attention to detail, they make unique and useful gifts which are designed to last for years and be treasured forever.
New to the Dora Mouse range is an exquisite cashmere blanket. As with all the blankets, this new blanket can be personalised with baby's name and date of birth - a very special blanket.