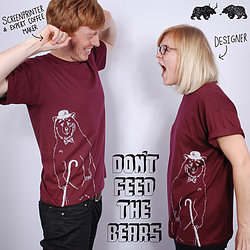 Grrrrrrrrr........... T Shirts, designed and printed in forests by bears....er...well... you can't prove that they aren't!
'Don't feed the Bears' is a T Shirt label based in Sheffield, UK. We are Lucy (designer and creative talent) and Tommy (screen printer, web developer and expert coffee maker!)
We've been designing and screen printing T Shirts since 2010. All our T-shirts & jumpers are handprinted in Sheffield.
All DFTB's T Shirt designs start life as a pencil (or whatever comes to hand) doodle or sketch by Lucy in a nicely used and much loved book. They are then put through all the messy, inky, fun-ness that is screen printing by Tommy, after a few coffee's for courage! We do all this by hand in our Kelham Island printing studio (great beers/breweries around there too!)
The name 'Don't feed the Bears' came from a road trip Lucy and I took back in 2009.
Anyway, back to the clothes...