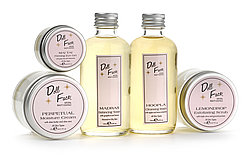 Bringing integrity, honesty and an original sense of style in to the field of natural skincare. From luxurious cleansers and creams to skin transforming serums and scrubs. Doll Face is the eco chic solution for every skin need, with each product being made by hand.
Unique formulas containing fresh ingredients such as organic juices, flower extracts, sea minerals, plant oils, vitamins and essential oils. By using these ingredients, the range provides the perfect balance to effectively revitalise and condition your skin, maintaining the integrity of surface tissues and natural oils.
With an emphasis on anti-oxidents, crucial in the battle against premature signs of ageing. Free from sulphates, artificial fragrance and colours, relying instead on natural hues and essential oils for authentic scents.
The quirky packaging, a natural preservative system, the absence of parabens and the recyclable glass jars make Doll Face truly unique and eco chic.