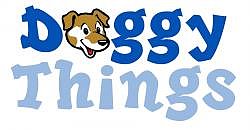 Doggy Things is dedicated to stylish and fashionable dog accessories inspired by our 3 beautiful dogs.
It was obvious to us that doggy owners must be facing a style vacuum and that doggies must be suffering from a fashionless existence. To stop the RSPCA being called in we decided to create "Doggy Things".
At Doggy Things you will find all kinds of fashionable collars & leads and beds that will easily fit in any living room be-it modern or traditional. which any self respecting doggy will be proud to wear and show off to his doggy friends at the park. We also offer a range of stylish
Add to that a range of clothing that would suit any dapper doggy (in all weathers and any occasion), dog bowls that will not shame your kitchen and toys that will keep your poochy entertained for hours.