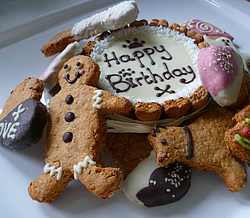 Welcome to Doggie Patisserie, the place to come for all your homemade, freshly baked, luxury cookies and cakes for dogs. Everything we make is made to order so the products are as fresh as possible.
Only the highest quality, natural ingredients go into each one and, unlike many mass produced commercial dog treats, these luxury bakes contain no additives, artificial food colours and definitely no added salt or sugar. The cakes, cookies and treats are beautifully gift packaged so they make great gifts for any dog-lover you may know as well.
So whether it's to celebrate a dog's birthday, cheer up a canine friend who is a bit under the weather or if you just want to treat your pooch to something special we're sure there's something at Doggie Patisserie to please their palate.
Enjoy your shop!
Doggie Patisserie is a fully insured business and registered under the EC Feed Hygiene Regulation (183/2005). All the treats and cakes have been tested in accordance with the current regulations. Our labelling conforms to the UK DEFRA requirements.