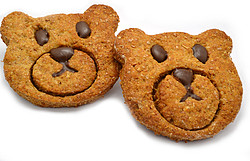 Doggelicious started in 2011 with the desire to provide good quality everyday treats for dogs in general using ingredients produced in the Isle of Man where our dog bakery is to be found. We then started to get requests for other bakery products so we developed a range which included very scrummy birthday cakes, pupcakes and decorated treats again using local dog friendly ingredients. We soon realised that as well as good quality treats dog lovers also wanted great and innovative products, some of which we have either made ourselves or sourced from like-minded Artisans or are just very cool. We hope that at Doggielicious we can provide fresh and exciting products. Thanks for stopping by.
The important stuff!
Doggielicious is the first business in the Isle of Man to be registered as "Feed Manufacturers" by the Isle of Man Department of Environment, Food and Agriculture ("DEFA") IOM/001/FEH. This means our premises are regularly inspected and we have to adhere to the EU Feed Hygiene Regulation (183/2005). As the Isle of Man has its own Government and laws there is no requirement for us to register with the Trading Standards. All the treats and cakes have been tested in accordance with the current regulations. Our labelling adheres to the IOM DEFA requirements and conforms to the UK DEFRA requirements. Doggielicious is fully insured business.