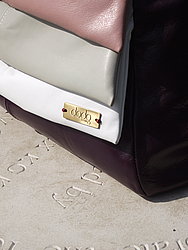 Welcome to Dodo Textiles where you will find a wonderful range of handmade leather handbags and accessories by designer/maker Yasmine Karim.
My designs all have a common thread, an element of storytelling. I like to work with fabric manipulation, texture and print to bring the creations in my sketchbook to life. I create all my products from design conception to completion here in my studio in the SW of France.
I have worked within the textiles industry from production to retail. And have a BA in Textile Design, HND in Womens Tailoring and Diplomas in Feltmaking and Interior Design.
I am a Londoner at heart with an appreciation for all things French, vintage and handmade. When something is made just for you, you know alot of hard work, imagination and skill has gone into the creation of the product. What you may not see is the obsessive attention to detail and focus, the in-depth exploration of the process and the attachment the maker has to product.
This is why I love notonthehightstreet.com as it enables me to sell along side other creative businesses to people who appreciate something a little different and in my case handmade.