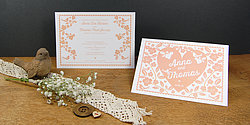 Hello and welcome to Ditsy Chic at Not on the High Street.
We all have a dream and in 2009 a slightly younger me... Marianne Lethbridge, a Bristol based designer and illustrator was determined to follow mine and I establish Ditsy Chic.
Having many years experience working within the design industry I took my love, talent and passion for all things beautifully designed and worked hard to create a company that offers high quality wedding stationery and paper goods that ooze the personality and gorgeousness.
I believe everyone is different. If you're the kind of person who loves to show your personality through eye catching artwork or beautifully designed personalised wedding stationery, Ditsy Chic can help make your dreams come true. We are passionate about making sure all our artwork is beautifully designed down to the finest details and every wedding is memorable with its pretty papers!
With our fast and reliable service, I personally design and create your order with love. Sourcing only the best materials for the job, I will customise all designs to suit your style and colour pallet.
Ditsy Chic offers a stress free service and aims to make this part of your gift buying or wedding a creative and enjoyable part of your day. All you have to do is sit back, relax and wait for the wonderful comments.
Made with Love by...
Marianne Lethbridge (BA Hons)