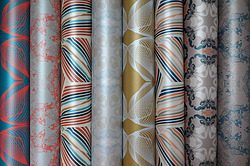 Ruth Hayward Design is a venture offering warm and contemporary designs for the home.
Ruth has a passion for creating live and work spaces which are distinctive and vibrant and this year sees the release of her first collection of unique wallpapers and lampshades.
Inspired by what's around us and by her travel around Europe from the gothic architecture of southern Italy, the geometric patterns in our flora and fauna and observations of modern city life; her bold and elegant designs play with colour, detail and scale through digital and screen printing technology to offer contemporary and carefully worked colourways.
Combining craftsmanship with quality designs, Ruth is determined where possible to offer products that are ecological, sustainable and are produced by British businesses.