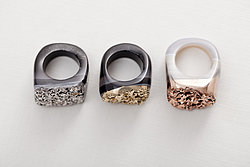 Our mission is to bring you a carefully curated collection of beautiful finds, sourced from Brazil and hand finished in London.
We hand select every crystal before it is crafted into a one-of-a-kind, wearable piece of the earth. We endeavour to keep the natural form of the crystal, showcasing these earth minerals in all their beauty.
Decadorn was conceived by Helen Clement, a self confessed accessories feind, ex-interiors and fashion buyer. Helen has travelled the world, lived in Sydney and London and has an enviable jewellery box full of pieces to show for her travels.
Her mission is to create and source beautiful and unique pieces, that you will treasure and adore for years to come. An eye for finding timeless treasures has now grown into a successful family run business, stocked in many UK indepedent boutiques.
Decadorn is the ultimate destination for magpies who are after that unique "wow piece" that will never be found again.