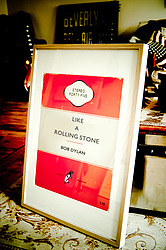 We are a small group of craftsmen based in northumberland, a mix of woodworkers and graphic designers.
We handmake our popular vintage style steamer trunks in our small workshop in north northumberland. We are always striving to come up with something that little bit different that will appeal to the masses. The benchmark is always 'would we have this in our own home?' If the answer is yes, then we make it! All items you see on our pages actually grace our own homes, most of the product photos are shot in situ at home.
Our own literary classic range makes an ideal present for that special arty muso in your life, or just a nice gift for your own home.