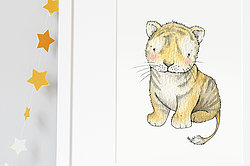 We are a small dedicated team, printing & framing all our Art Prints from our charming little studio by the sea in North East England. We take great pride in creating something truely special, so we add 3D elements and offer personalisation on many of our products to add that unique final touch.
Founded in 2013 by British Illustrator Jessie Bowman, Jessie loves to use a mix of watercolour paints and 3D collage textures to create her Artworks. She takes inspiration from her favourite childhood books and precious memories.
Modern and bright, yet classic in their style, we hope these timeless prints can be enjoyed and treasured by both parent and child for many years.
Thank you for looking!