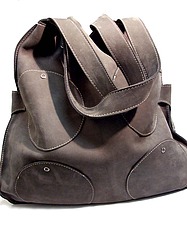 Having grown up in a family of craftsmen with a long history of working with leather goods, I have received a unique training in this handmade artistry. After obtaining an MA in Fine Art, I decided to apply my artistic endeavors within the handmade and bespoke leather goods industry.
Following in my family's footsteps, I launched Cutme in 2005, focusing on delivering quality handmade leather accessories, as opposed to the mass produced goods available on the high street.
My passion for craft is evident in the creative process, from the conception of the design to the physicality of each individual piece.
Cutme products range from unique bags and belts to iPad cases and bracelets, which are each made from a high quality Italian leather known for its durability. Designed and made in a London based art studio, Cutme accessories are handmade to the highest standard, with a particular attention paid to finish and detail.