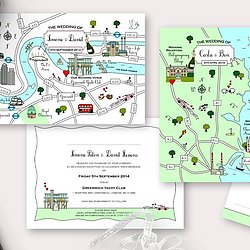 If you're looking for a unique idea for a save the date card, personalised gift, 'we're moving' card or invitation for a special occasion, Cute Maps might just be the answer.
Cute Maps are utterly bespoke whimsical custom map designs that impress guests and also leave a lasting keepsake of your special day, be it your wedding, birthday or christening.
Our colection ranges from simple postcards to full stationery suites so there's something to suit all tastes and budgets. Stationery is printed on high quality textured card and include laid envelopes to give a luxury finish.
Colours and fonts can also be tied in to match your design schemes creating a seamless, yet interesting twist to your stationery suite.