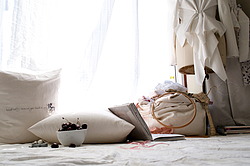 CsevenM is the brainchild of Charline with a dream of establishing her own brand she designs and creates visually distinct essentials for the home and wardrobe.
CsevenM collection consists of stylish women's clothing framed by classic silhouettes and layered with delicate details, plus beautiful and luxurious bedding created using the finest quality materials, all lovingly handcrafted in the UK. Our products are created in limited quantities to maintain individuality and exclusivity.
CsevenM offers unique and individual applique cushions, covers and blankets for adults and children, adding colour and character to any home.
If you have a specific requirement please contact CsevenM to discuss.