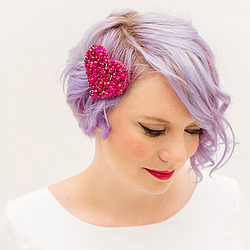 In early 2011, Sophie King dreamed of the perfect hair accessory: delicate feathers, hand painted to form a single butterfly. But such a thing just didn't exist! Well, they say that if you want a job done well you should do it yourself, and that's exactly what Sophie did.
The result of that first spontaneous project was Crown and Glory Hair Accessories, which has since expanded into an international fashion accessories brand that believes subtle accessories are a waste of everyone's time.
Sophie's proudest moments for Crown and Glory include being hired to make headbands to order at Vogue Fashion's Night Out, providing accessories for London Fashion Week and launching Rock n Roll Bride for Crown and Glory - alternative bridal accessories for bold, bright, spunky babes who believe accessories make the outfit.
These days, Sophie is joined by her partner in crime Gareth, who spends his days being the only glitter-covered, rugby-playing, hair accessory production manager in the UK (probably). Together they design and manufacture Crown and Glory's cute as a button animal ears, loud and proud floral crowns and more sparkly bows than you can shake a stick at from their cosy Cornish studio.