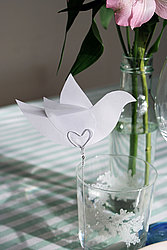 Creative and Contemporary specialises in making handmade decorations for weddings and parties. All our decorations are personal and unique, helping to transform your event into something truly special.
Creative and Contemporary loves making decorations for weddings and parties. Turning blank canvases into not only a personal and unique settings, but also truly memorable ones. We believe it is the small things that matter and just to hear your guests say "oh my goodness look at that" is what we love most. Unique name place, favour bags, sweetie bags and boxes can all be amended to suit your theme and colour. Nothing is beyond possible and we love thinking of new and unique ideas for your wedding or party. Have you pinned something on pinterest, but not sure how to make it? Why not send us a picture, and we'll let you know whether we can.
Name places, favour bags and personalised gifts are just a few products we specialise in. All can be personalised to your event, matching colour schemes and themes.
Got an idea, but not sure where to start? Why not drop us a line. We love thinking of new ideas.