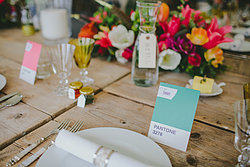 Creative and Contemporary focuses on the small details which help make the big, important events in your life even bigger and better.
We hand make a range of personalised decorations for weddings and parties to suit different needs, and we also enjoy working on bespoke projects when you really can't find that perfect decoration.
Have you pinned something on pinterest, or seen something on instagram, but not sure how to make it? Why not send us a picture, and we'll let you know whether we can.
Name places, favour bags and personalised gifts are just a few products we specialise in. All can be personalised to your event, matching colour schemes and themes.