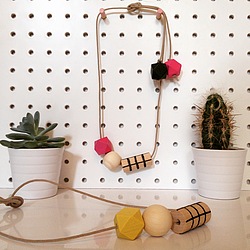 Working mainly in wood, Steph Marsden produces handmade jewellery and design-led accessories from her Edinburgh based workshop.
Steph studied design and cabinetmaking at Adam Smith College, Kirkcaldy and was awarded the Haldane UK Design Scholarship in 2007. She likes to experiment with traditional perceptions of functionality and believes that furniture should be innovative and beautiful as well as useful. Her product collection grew from a curiosity in finding stylish, creative and fun design solutions to handmade sustainable craft.
From that perfect finishing touch to make your home as individual as you are; or for the gift made with love that will be cherished forever, she loves both making and sourcing products which combine sustainability with stunning contemporary design.
Growing from a love of all things with faceted edges, her 'Facetnation' jewellery range fuses bright colours with bold geometric shapes.