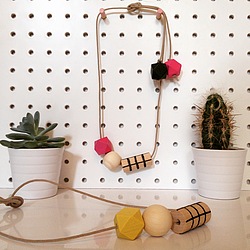 Working mainly in wood, Steph Marsden produces handmade jewellery and design-led accessories from her Edinburgh based workshop.
Steph studied design and cabinet-making at Adam Smith College, Kirkcaldy and was awarded the Haldance UK Design Scholarship in 2007. Her product collection grew from a curiosity in finding stylish, creative and fun design solutions to handame Scottish sustainable craft.
Growing from a love of all things with faceted edges, her 'Facetnation' jewellery range fuses bright colours with bold geometric shapes and delicate rose gold beads with dark wood and shimmering tones. All her jewellery range comes boxed in elegant white gift boxes with free delivery in the United Kingdom.