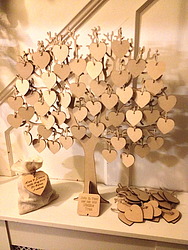 Craft Heaven, designed, cut and sent from sunny old Devon!
From our workshops, nestled in the heart of the English Riviera, Craft Heaven design and manufacture a huge range of laser-cut and hand-cut wooden shapes, words and letters.
'Personally Personalise' is our main marketing aim. We want to give you the opportunity to craft your own gifts, and then personalise them.
Craft Heaven is a family run business, and having had to entertain four offspring over the years, we realise that kids just love creating! With this in mind we've put togther a number of kits to not only keep your little darlings busy, but let their creative juices flow and flow!
Check out our newest arrival, a fab Paint Your Own box set which includes everything you'll need to creat gorgeous Christmas decorations for your tree. The box contains an excellent set of quality acrylic paints, a real hair paint brush,12 wonderfully designed classic Christmas shapes and 12 pieces of jute string to hang them on.
So, why not start your Craft Heaven creative journey with the starter Paint Your Own Christmas Kit, and if the creative bug bites you, we'll welcome you back!