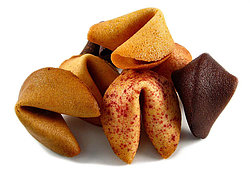 Cracking Cookies were named from the signature crack of a fortune cookie when cracked open to receive your message. We were created from the frustration that, when given a fortune cookie, the fun part was quickly cracking your cookie open to reveal your message but throwing the tasteless and cardboard-like cookie to one side.
Well no more!
Our fortune cookies are all hand-crafted from a traditional recipe modified to transform the once bland tasting fortune cookie into a tasty fortune treat. Our fortune cookies can be personalised, or a theme chosen from our range to suit your occasion or event. Each fortune cookie flavour has its own very individual recipe and we only source and use the finest ingredients to tantalise your taste buds.
We're not just in the business of making any old cookies, we exist to make the most delicious natural fortune cookies ever. Our fortunes are excellent 'To Give, To Keep or To Share' for any occasion or event, with not just individual and unique fortune and themed messages but a delicious tasting cookie as well. Our flavours speak for themselves, and we hope you enjoy eating them as much as we enjoy making them.