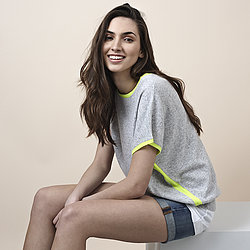 Cove design contemporary layering pieces that are beautifully considered for a modern woman's wardrobe needs. From the restrained tones of our bestselling round neck poncho to the bright pops of colour on our super soft cashmere jumpers.
The collection consists of the signature reversible ponchos, oversized jumpers, cowl neck tops, cape and colour block ponchos, reversible mini skirts and the neon cashmere jumpers.
Combining both classic and contemporary styling and design, Cove offer distinctive and chic outerwear - perfect for both urban and rural living.
Team a poncho with skinny jeans for the school run, relax at week-ends in a cosy V-neck, look stylish at a drinks party in a reversible tee or rock the sports luxe look in the new Neon cashmere jumper.
We offer free delivery in the UK, express services and can post to many places across the world.