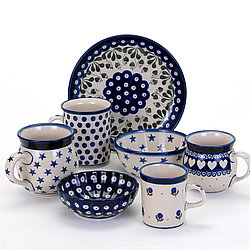 Country Traditionals has been selling this wonderful high quality, hand-decorated stoneware since 1995. Our pieces are handmade at one of the oldest and most respected pottery factories in Poland, where highly skilled craftsmen and the best equipment work hand in hand to ensure that a consistently excellent product is produced every time. All of the items we sell are exclusively available in the UK to Country Traditionals.
The range is beautifully designed and looks fantastic on display. Our pottery is meant for real life as well though and should be used every day. This includes the oven (or the Aga!), the microwave and the dishwasher - our stoneware is extremely durable and should last for years.
For each item in the range, we offer our six most popular patterns: small blue dot, blue eyes, sloeberry, love leaf, light hearted and morning star. Some of our customers have a favourite and buy everything in just one design but many others like to mix the patterns up and go for a more ecelectic look. All of the patterns mix and match beautifully, so whatever you choose, you can't go too far wrong.