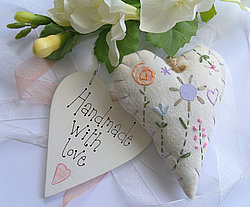 Country Heart is a true cottage industry based at Plum Tree Cottage. Founded in 2000 by textile designer Sian Longstaff and graphic designer Philip Newbert. Sian and Philip have over 20 years experience designing fabrics, homewares and decorative products for industry here and abroad, for names such as Mary Quant, Liberty and Coloroll as well as clients worldwide.
Country Heart produces two collections of decorative products from their studio/workshop, a hand stitched fabric collection and a wooden collection. All fabric designs are hand stitched and finished, using natural fabrics, traditional embroidery and appliqué. Many are scented with natural flowers. The wooden designs are hand cut and painted, using a variety of techniques. All pictures have handmade frames and are hand painted and fully glazed.
Many designs are personalised and make the perfect gift for a special occasion. Hearts are always a favourite and inscribed with a personalised message make a truly thoughtful gift guaranteed to delight.
Featured in many top style magazines Country Heart designs are becoming more and more popular and the business continues to grow year on year. With delighted customers returning and also spreading the word, Country Heart looks forward to welcoming new customers every year.