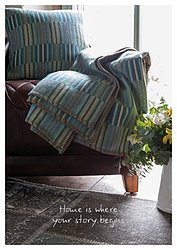 Cottage in the Hills is about inspiring you to create the home you dream of. Your home, your sanctuary from all the hustle and bustle, stresses and strains of your everyday, busy life. The place where you have all your favourite things. The place where you relax and unwind. The place where you create and share memories with family and friends.
A spell of frequent house moves made me realise the importance of the familiar, treasured things that surround you and make your house a home; those special pieces that make a place so much more than simple bricks and mortar. Whether we lived in a city, town or village, dressing our home with a modern country feel allowed me to create a sanctuary that I could really call home. The place where my husband, our son, and dogs, and all our friends share precious times together – it's the backdrop to our life and inspired me to create Cottage in the Hills.
We are based in the Malvern Hills, deep in the beautiful countryside of Worcestershire. The surrounding countryside has always had a big influence over our Ochre and Ocre textile ranges. The natural colours and shapes of the floral and fauna have inspired our designs and some have even taken their name from local towns, like Malvern and Ledbury.
We care passionately about our Eco Credentials so all of our textiles are made from 100% Organic Cotton, and we only ever use environmentally friendly dyes.
Welcome to The Cottage in the Hills and we hope you enjoy your stay.
Tess x
Tess Heslop - Founder