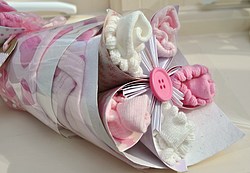 We started making our gifts after requests for gift wrapping for our Cot2tot Wrap Slings. We really wanted to come up with something unique within the baby market and introduced this with our lovely Round and Round the Garden range - incorporating baby products with beautiful origami paper flowers which hold and wrap the gifts in a very unique and attractive way.
Our gorgeous ' New Baby Accessories and Paper Flower Bloom' is especially popular and combines a baby vest, socks and scratch mitts within a paper flower wrap. There is nothing else out there quite like them!
We have now increased our range to cover other celebrations and have a growing product range of beautiful paper roses and paper flowers, the majority can be personalised to suit.
We love working with our customers to come up with their perfect gift!
We have just introduced our Guest Book alternative - our 'Personalised Paper Rose Guest Book Bouquet ' where our customers can have a lasting and unique keepsake from their special occasions - we simply send you the petals and you ask your guests to write on them with their goodwill wishes and love - then return them and we will transform them into a beautiful paper rose bouquet for you to keep and treasure forever!