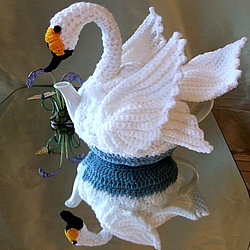 My name is Lynne Hardman, I am a Cumbrian lass and live in the beautiful Lake District. Having recently retired as a bridalwear designer I now have more time to indulge my other great love: crochet!
I have enjoyed all handcrafts from a young age, inheriting the skills from my Grandma. I get particular joy from crochet which is the best form of stressbuster imaginable, and would recommend to everyone.
I live and breathe colour and love collecting beautiful yarns from all over the world. I design and make everything myself with care, for you and your loved ones to enjoy. Crochet is the only craft which cannot be replicated by machine.
I love creating new designsespecially teacosies! All my items for sale are designed exclusively for notonthehighst and cannot be obtained anywhere else.
If you have any ideas of your own please contact me. I love a challenge!
The Swan pictured above was a commision for BBC2 Springwatch. It is more of a sculpture than a teacosy so please do not ask me to replicate it (I wouldn't know where to start!)
All my designs are made with the purpose of making people smile...I hope it works