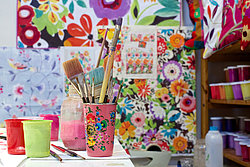 Welcome to Collier Campbell! We have a simple philosophy – we are passionate about colour and pattern and want to make fabulous design and great quality products available to everyone!
What makes us different is that all our designs are still lovingly hand painted in our Studio in West London – this gives them a fluidity and freshness that computer generated prints just can't match. We believe that the joy and delight we feel as we create our designs comes through in the brush strokes and make our designs that little bit more special!
Collier Campbell was founded in London in the 1960s by two sisters and went on to collaborate with many of the world's top designers, retailers and manufacturers in the UK, Europe and the USA. Over the years our designs have won many awards and can be found in several museum collections featuring the best of modern design including the V&A Museum, London and the Cooper Hewitt Museum in New York.
We have now developed an exciting range of products which we are delighted to bring to NOTHS. Some of our products are available in exclusive boutiques and museum stores around the country, but several of our scarves, washbags and notecards are only available on our website and NOTHS. We love dipping into our archive and updating our vintage patterns, but we also enjoy creating new designs so we can offer a broad mix of styles….but always with a special Collier Campbell twist! We hope you like them!