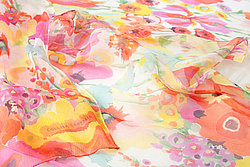 Collier Campbell has been creating beautiful hand-painted designs since the 1960s..
Many of our designs have become classics, and over the years we have collaborated with many of the world's top designers, retailers and manufacturers. What most distinguishes Collier Campbell is that all our designs are hand-painted, which gives them a subtlety and fluiditity which computer generated designs just can't match. We are passionate about colour and pattern and have always aimed to make fabulous design available to everyone.
We have put together a collection of products in some of our favourite designs, both vintage and new, all designed in our London studio.
Choose from our range of silk scarves, silk cushions, bags, weekend bags, backpacks, purses, wash bags, notebooks, cards mugs and bowls.