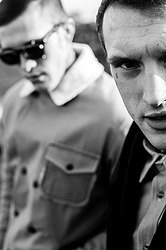 Collective Noun prides itself on being part of the great British manufacturing revival, producing high end menswear 100% in the UK and wherever possible using UK fabrics. All our garments are made in small quantities in the UK to the highest standard and we often use end of line fabrics making each piece a very limited item.
With a design philosophy based more on style and cuts than fancy gimmicks and fashion, forward thinking Collective Noun aims to produce clothing that will stand the test of time. Collective Noun produce two full collections a year with small mid season one-offs and collaborations throughout the year.
Our logo originated from the collective noun of the humble crow, next time you see a murder of crows fly past think of us.