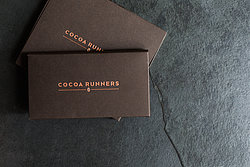 We are in the midst of a revolution. A chocolate revolution. From Brooklyn to Budapest, Cleethorpes to Copenhagen and San Francisco to Saigon, passionate bean-to-bar chocolate makers are creating tantalisingly delicious chocolate bars.
They source premium beans directly from small farmers who value provenance and quality. They manufacture in small batches and maintain the highest standards. They win prizes galore. Their bars are varied and sublimely flavourful. When you taste one there is no going back. But finding these bars isn't easy. That's why we set up Cocoa Runners.
We love these chocolate bars. We run around the world discovering these makers and farmers, and then we carefully curate selections of the bars into boxes and deliver them directly to our customers.
We have boxes for every occasion, from birthdays to dinner parties and for every taste, from milk chocolate lovers to those who seek out 100% chocolate bars.