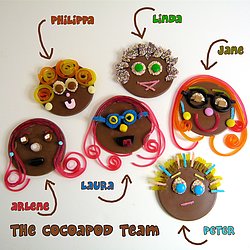 Cocoapod love chocolate, colour, texture, shape, design, creating... and fun!
Sisters Linda and Philippa didn't want to make 'serious' small square chocolates where the flavour is so subtle it is for connoisseurs only. We wanted to have fun with shape and colour... but we didn't want to forgo the taste of good Belgian couverture chocolate either.
So now is time for you to have some fun yourselves with personalised chocolate gifts. Create a box or two to send to friends and family and put a chocolately smile on their faces with some unique personalised messages!!
Take a look at our delicious range of Cocoapod Buildabox chocolates that have been designed and are handmade by Cocoapod
Not only do we offer chocolate but also offer a range of sweet treats suitable for children and adults alike--perfect for parties, weddings and other events as well as seasonal products
Most of our products are handmade by our small team at our shop COCOAPOD in Petts Wood in Kent
Cocoapod love chocolate, colour, texture, shape, design, creating... and fun! We hope you have fun exploring our varied range too
PLEASE NOTE MOST PRODUCTS HAVE A BEST BEFORE DATE OF AT LEAST 6 MONTHS but please contact us to check dates if you prefer