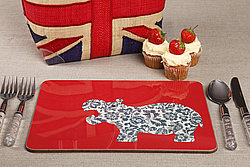 Club Matters is a Hampshire based company which specialises in creating exceptionally high quality, stylish melamine table mats and Glass Platters. Whether you are seeking a contemporary or traditional design, we believe our collection of stunning Table Mats and Glass Platters will offer you a variety of unique choices.
Unusually creative and exceptionally smart, we commission our hand-painted artwork from a team of talented artists. All our mats are handmade in England, melamine coated with either a gloss or matt finish and are created to withstand heat of up to 160 degrees. Mats are boxed in sets of four in our distinctive royal blue and pink edged boxes.
Our toughened Glass Platters are heat resistant and dishwasher proof. Used as serving platters, cheese boards or as table protectors, our platters make a beautiful yet highly practical addition to any kitchen or dining room. If you're searching for the perfect present, you need look no further!