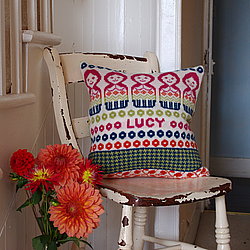 Fairisle with a modern twist. Handmade in Scotland.
My work is a fusion of my own unique designs and traditional fairisle patterns, experimenting with colour to produce a collection of exclusive accessories and home wares.
I work mainly in Scottish lambswool sourced from an eco mill not far from my studio in the north east of Scotland.
All my products are knitted to order and finished to an exceptionally high standard.
Some items within my collection can be personalised .
My range includes, cushions, personalised hottie botties, hand warmers, mittens, scarves, neck warmers(collars).
Within this range you will find my cartoon people i.e. kilty man, princess, owl, russian doll, man with specs.
Gifts suitable for every age group