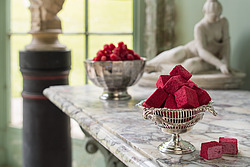 Handmade Gourmet Marshmallows from Port Eliot, Cornwall.
Our exquisite, award-winning marshmallows are adapted from a traditional French recipe and freshly prepared in small batches with exciting, natural ingredients. Convivial childhood favourites transformed into luxurious puffs of perfection.
Cloud Nine started in April 2013, when we discovered how heavenly a handmade marshmallow could be. We spent months perfecting our flavours, sourcing the finest ingredients, working out the best recipes for lemon curd and pistachio paste, and how to make the texture softer than a feather landing on a pillow. The results have amazed us, and others have caught on fast. Sophie Dahl called them 'sublime', The Sunday Times recommended their 'light-as-a-feather deliciousness', Kirstie Allsopp described them as 'a life-changing discovery' and Vogue's deputy editor found them 'divine'. We also won Gold at the Taste of the West Awards.
Continuing Port Eliot's arts association, we have asked three leading artists, Gavin Turk, Briony Cloke and Martin Parr, to contribute images for our Marshmallow Jars. We hope you'll agree that together with our monochrome box and saddlestitch ribbon, they make chic gifts.
Current flavours include lemon meringue, salted caramel peanut, pistachio and white chocolate, peppermint chocolate, double raspberry and spiced cranberry and chocolate