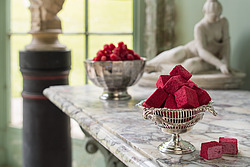 Handmade Gourmet Marshmallows from Port Eliot, Cornwall.
Our exquisite, award-winning marshmallows are adapted from a traditional French recipe and freshly prepared in small batches with exciting, natural ingredients. Convivial childhood favourites transformed into luxurious puffs of perfection.
Cloud Nine started in April 2013, when we discovered how heavenly a handmade marshmallow could be. We spent months perfecting our flavours, sourcing the finest ingredients, working out the best recipes for lemon curd and pistachio paste, and how to make the texture softer than a feather landing on a pillow. The results have amazed us, and others have caught on fast. Sophie Dahl called them 'sublime', The Sunday Times recommended their 'light-as-a-feather deliciousness', Kirstie Allsopp described them as 'a life-changing discovery' and Vogue's deputy editor found them 'divine'.
Cloud Nine now has 9 awards adorning our marshmallow kitchen walls, including a total of four Great Taste stars from the Guild of Fine Food, two golds from Taste of the West, and has been voted Champion Confectioner for the South West by Live Love Eat.
Our product range has grown over the three years too: as well as our 100g packets, gift-wrapped jars and gift subscriptions, we make marshmallow wedding favours, which can be personalised with your message, and have recently launched our best-selling S'mores kit, which includes a nifty tabletop marshmallow toaster for bringing the American campfire experience inside.
Current flavours include Lemon Meringue, Salted Caramel Peanut, Pistachio and White Chocolate, Peppermint Chocolate, Double Raspberry and Coconut and Lime