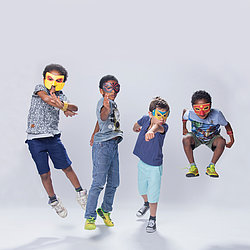 Clockwork Soldier is a whimsical children's brand with a fresh and creative take on gifts, games and curiosities that will amaze children and adults alike.
We wanted to bring back the old fashioned concepts of imagination and fun to create products that encourage children to play - whether on their own, inspired by their imagination - or together with friends and family. These products will often have an educational theme but our main priority is that they are fun. With this as our guiding principle, and after a great deal of hard work, Clockwork Soldier was born in 2011.
Clockwork Soldier's core values are based on wholesome family values with a 'make and do' ethos that is reminiscent of simpler times. We are not in any way anti-technology, in fact we believe it has a vital role. We just don't want traditional methods of play to be lost. We wanted to create beautiful gifts that children would want to play with. Play is one of the best things you can do. It is healthy, fun and brings people together. Come and play with us!