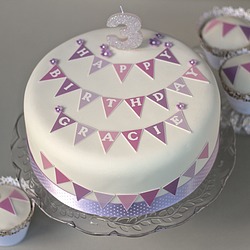 Clever Little Cake Kits make cake decorating easy!
Got an important celebration coming up and stuck for inspiration and time, but want to create a cake with real 'wow factor'? Well look no further! Our cake decorating kits have all you need to put together a stunning, professional looking cake in next to no time. Whether it's a birthday, christening, anniversary or any other occasion, our kits can be tailored just for you.
Clever Little Cake Kits come carefully packaged in a pretty box and are delivered to your door, saving you the hassle and expense of finding all the matching decorations for your cake.
Following our simple step-by-step instructions, you won't need any special equipment. And when it's done you can bask in the glory as your friends and family admire your creation!
Clever Little Cake Kits is the exciting new business venture of work-at-home mums Angharad Llywelyn (Boo) and Ruth Campbell. Boo, who runs a successful wedding cake business, met Ruth in 2007. When Ruth said she'd love to have a ready made 'kit' to help create her daughter's birthday cake the idea for Clever Little Cake Kits was born!