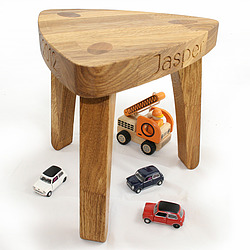 We design them, we make them, we sell them...
Cleancut Wood is the home of original wooden products, designed and made by Stuart and Rosie Treasurer at our small workshop in the north west of the UK. We make contemporary furniture and unique personalised gifts. We love working with solid oak because of its surface beauty, the accuracy that is possible, and the smell of hot oak shavings in the workshop...
We have also sourced some carefully selected products made from different woods to enhance our range - we personalise these with our high-tech laser engraver for super sharp results.
We are proud of our ability to ensure the quality of our products, and of our customer service, because we are responsible for it all. From the day the stock is delivered, to the day the finished items are shipped off with our couriers, we control everything. This also means we can customise and personalise items as they are going through the workshop - please just ask!