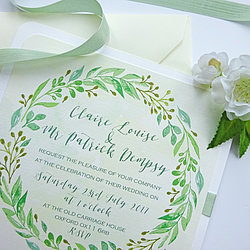 Claryce Design is a home based company that specialises in creating unique and beautiful wedding stationery with a fresh, contemporary feel.
I have experience in many areas of the arts including fine art, graphic design and interior design; all of which play a part in the overall aesthetic of the stationery I create. I draw inspiration from many sources including fashion, colour and nature. I can also be inspired simply by beautiful materials married with strong and varied typefaces.
The majority of my stationery is printed for me by professionals so that I can be assured that the materials used are from an accredited, sustainable source and that the finish is of the highest quality. It also gives me more time to concentrate on continually updating my range to ensure it stays fresh, contemporary and on trend.
Whatever your wedding stationery needs they can be met with every design available on a full range of products from save the date notifications and invitations all the way through to items for your wedding day itself including table plans, menus, and place cards.
If you have yet to find your perfect stationery and you have a clear vision of what you are looking for, please do not hesitate to contact me and together we can create a truly bespoke design for you.