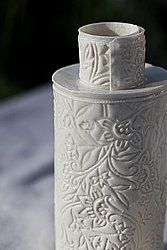 Clare Hartley is a ceramic designer based in Manchester. She has been designing and making individual ceramic pieces for private collections and gallery presentation since completing her degree at Manchester Metropolitan University in 3-dimensional design in 2004. She set up her studio in the city from where she now runs her business Clare Hartley Ceramics.
Her work is inspired by the soft, fluid folds and gently overlapping seams of simple sewn items and hand made lace and heavily textured linens.
By exploring the balance between order and fluidity, she creates unique objects with intriguing surface patterns.
Clare's work is nostalgic without being sentimental or fussy and takes a fresh, straight forward, contemporary look at traditional surface decoration.
Shoes and other items can be imprinted with a name, birthday, anniversary or other personal message.
Products are all designed and hand built by Clare personally, therefore every item is unique, completely original.