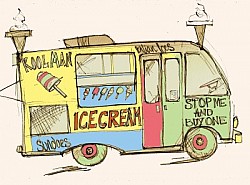 Clare Carter Designs is a new business venture, although for the past fourteen years I have produced textiles professionally for film and theatre, and created illustrations for friends, family and small commsissions. Last year I became a mum and now want to balance working for myself with bringing up a family.
All my products are illustrated and designed by myself and everything, apart from the greetings cards, are individually handmade.
My range includes textiles for the home, childrenswear and greetings cards, and will be regularly added to with new designs and ranges planned.
Due to the fact that my textiles are individually hand produced each may vary slightly from the image shown.