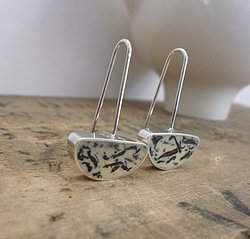 Claire Lowe creates contemporary jewellery using a variety of materials, she enjoys experimenting with new and unusual combinations to bring you something truly original.
Claire's tea collection is inspired by a passion for tea drinking, it only seemed natural to use it as a material! Combined with clear or white resin these pieces give tea a whole new dimension. A perfect gift for an avid tea drinker like Claire. Claire uses her extensive knowledge of tea and her interest in tea paraphernalia to push designs forward and create new pieces.
Each piece of jewellery is handmade by Claire in her London studio, fuelled by large mugs of tea Claire creates each piece to order. All items are then lovingly packaged and posted out to the customer. Please do enquire if you have an idea in mind but dont see exactly what you are looking for listed, commissions are always welcomed.