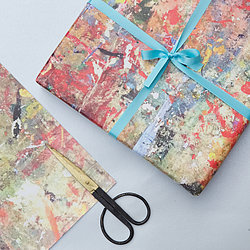 Claire Close Studio is a family run business on Devon's historic Jurassic Coast. The studio is headed by illustrator and typographer Claire & her husband Tarot, working alongside a team of specialist studio assistants who take pride in creating your bespoke orders!
Claire's witty and imaginative designs are inspired by her seaside lifestyle and a love of pop culture
"Family life and coastal living fuel my creative output" says Claire. "I love seaside postcards, bold colours, and whimsical humour, and often find the seeds for new ideas come from conversations with friends and family, or from observing interactions between people."
We have pages full of products we love and know you will too! Our popular range of Colouring Posters includes the best selling Giant Christmas Tree Poster which was shortlisted for the 'Gift Of The Year' award.
Our collection of stylish homewares and clothing grows with each season, offering on trend items you won't find anywhere else with personalised options that make each piece truly individual.
Don't forget to choose from our range of witty greetings cards and colourful wrapping papers to complete your gift. You can even get your own message printed inside our cards for fuss free gifting.