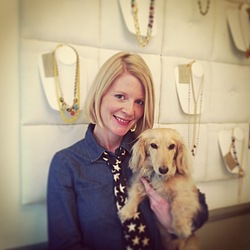 Welcome to Cinderela B and our world of beautiful jewellery - designed and handmade with oodles of love in our cosy studio in the vibrant area of Spitalfields, East London. We a team of five passionate girls who really do love what they do, and Rafferty the sausage dog!
We take pride in creating original, quirky and meaningful jewellery that is beautifully packaged - special gifts for special people. Our studio walls are a montage of colour - bursting with design ideas and thank you cards from delighted customers. Because we hand-make to order, we're able to accomodate most special requests from customers, so don't be afraid to ask!
The story of Cinderela B began in Brazil, where Lancashire born Rachel (founder and designer) met a hugely inspiring lady called Cinderela Brancante (really her name!). On Rachel's return from Brazil she set up stall at the legendary Spitalfields Market in East London, selling her wares to the hipsters of Shoreditch, tourists and the many celebrities that visit the area. That was in 2006 and now Cinderela B can be found worldwide in some of the most inspiring places to shop, from independant gift stores to fashion boutiques and department stores including Liberty of London. But you need look no further because on Not on The High Street you will find our best sellers, plus many exclusive designs that can only be bought here.
Tropical motifs including hummingbirds, butterflies and pineapples are a nod to Cinderela B's brazilian roots, and designs range from delicate and feminine to more edgy statement pieces with serious WOW factor.
Cinderela B… for those who love jewellery a little less ordinary. We hope you like!