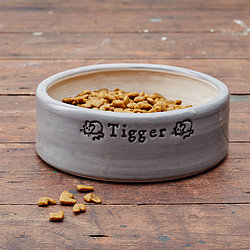 Chow Bella began back in 2006 when my cocker spaniel, Bella (co-founder of the company) kept dunking her ears in her food and water. I searched long and hard for a decent spaniel bowl for her but was unable to find one that really worked, most of them being too big. I'm a trained ceramicist and so I decided I'd get to work making Bella her very own, handmade bowl.
Gradually word got out that I could make personalised bowls, and although I started with just spaniel bowls, I soon had requests coming in from other breed owners, cat owners, and even rabbit owners!
Each and every bowl is carefully hand thrown using a traditional potter's wheel. The bowl is then painted in underglaze colours, and your pet's name is impressed permanently into the clay using rubber stamps. I use no transfers and so no matter how many times your bowl goes through the dishwasher, the colour and wording will not fade.
I've now been making pet bowls for ten years, and both Bella and I are a bit older and greyer, but we still love the bowls and hope you will too.